Independence Day Long weekend is coming and its time to camp outdoors with your family or friends and head out for an amazing weekend getaway amidst nature, waterfalls and mountains. The rivers flow strong, the earth drinks thirstily and the wild rejoices. The months of July to September is an incredible time to be outdoors for the nature lover. Here is a list of amazing destinations to camp . Go on , be an explorer.
Agumbe is known for flora and fauna, one of the richest bio diversity destinations in the world. It receives second highest rainfall after Cherapunji! Mesmerising waterfalls, dense rainforests, mountains and a wildlife galore. Agumbe is a nature lovers paradise.
Check out this 350-year-old homestay and a campsite that can take you as close to nature as you'd like.
When you add rains to an already green place you get a smorgasbord of beautiful sceneries. Wayanad, especially the Shola Forest area is a maddeningly green and beautiful place. We have two gorgeous stay options for you.
Situated atop a hill in the beautiful, rustic and serene village of Valad, Wayanad the Jungle Edge Campsite gives you a breathtaking view of the Wayanad forest and hills.
Also check out The Shola Shack : Set on the base on a few acres of grassland on rolling hills of the Western Ghats in Wayanad. Beyond the horizon the vista opens to fold upon fold of shola and grassland habitat, disappearing into the mists of the Brahmagiri range that stretches across the border to Irupu in Karnataka. Immerse yourself or as they do in Japan bathe in the forest (Shinrin Yoku), we promise you will find a connection to nature.
If nature is your obsession, then Dandeli is the fix. There's so many activities that you can get involved with birding, wildlife, rafting, kayaking, zorbing the list goes on. Dandeli is home to a large number of bird, animal and butterfly species like the Great Indian Hornbill, Pied Malabar Hornbills, Malabar and Flying Squirrels. If you'd like to hang by the river and do nothing, Dandeli works well for that too.
Dip your feet in the river while enjoying the beautiful sunsets of the Western Ghats. Our property is an ideal campground for nature lovers, bird/wildlife enthusiasts and adventure junkies. Camp Exalt is a place for the adventure camper and the creature comfort traveler too.
They call it the Scotland of India, some the Scotch-land for others it's a perennial treasure trove of wonderful experiences. They say, when you're in love you go to coorg, when your heart is broken go to coorg, when you have nothing to do you go to coorg, when you… you get the drift, don't you? In the rains, coorg is next level magic. Head out to Jungle Mount Adventure Camp and soak in the views of the Tadiandamol mountain while chilling by the river.
Located between Coorg and Chikmagalur— Karnataka's more famous weekend getaways— Sakleshpur is permanently swathed in robes of emerald and jade. Its slopes are filled with Arabica and Robusta coffee plantations, gorgeous waterfalls, and trekking routes to suit all abilities. For those who like to spend vacations reading, dozing off, and living the life of a bean bag.
Others who prefer more invigorating weekends can spend their time trekking the Western Ghats, snooping for orchids, colourful frogs, and the numerous species of birds that live here.
A hill town with lakes, forested valleys, waterfalls and grassy hills – Kodaikanal has something to offer for everyone. We love the serenity and to die for views all around. At 2000+ metres above sea-level, off-the-grid and accessible only by foot, #TheMistyMountainHop is shrouded in clouds for most of the year. However, the warmer months allow for a crisp view of a very large valley. The Hop is cut into steps on a hill, that is accessible only by foot through a forest.
Just surrounding the beautiful himalayan ranges , Shimla stands to be an amazing destination for a long weekend getaway from Delhi or Chandigarh. There are beautiful campsites which provides amazing facilities , offbeat treks and surrounded by apple orchards. The weather is just right (between 10 to 20 degree Celsius)to rejuvenate your mind body and soul where you will find the much needed peace and quiet away from the everyday hustle and rush of the city. Just cool breezes, lovely sunsets and quiet mountains. Nature here invites you to walk its paths or simply laze in the summer shade. The winding path leads to the breathtaking beautiful landscapes filled with plentitude of wild flowers making it a perfect place for nature lovers.
Explore campsites in Shimla here
The diversity and vastness of the Western Ghats landscape offer a wide array of gorgeous scenery and experiences. From the Rocky Mountains to Tea Estates, so Grab your camera and start planning your adventure.Munnar is one of the most popular hill stations in Kerala and is renowned for its tea estates, scenic landscapes, and trekking trails. Explore this gem of nature during fun camping in Munnar.
Maharashtra offers amazing campsites near Lonavala,Raigad, Thane and Thala. Most of the campsites is just 2 hrs away from Mumbai and Pune. Vastness of Mountain ranges in Raigad, exotic fireflies at panshet,kayaking around pawna lake and karnala, camping next to krishna river in the sahyadri ranges is something to experience with friends and family.
Famously known as Devbhumi, or the Land of the Gods, Uttarakhand is a land of untouched natural beauty and sublime spirituality.Ancient temples, forest reserves, national parks, hill stations, and mountain peaks welcome you in the calm, cooling air of Uttarakhand. Camping in Uttarakhand comes with a luxurious swiss tents and amazing amenities and offbeat treks around.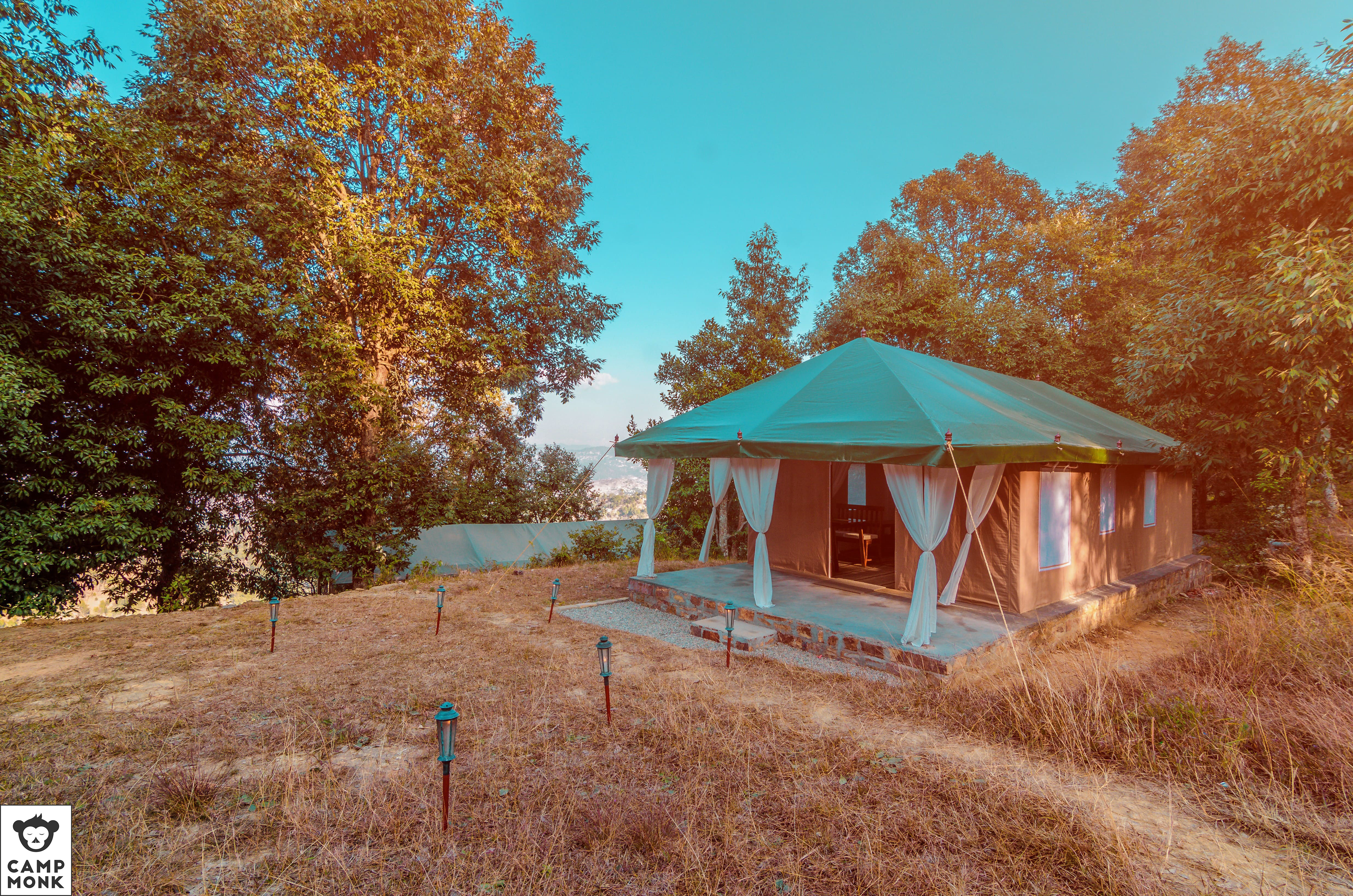 So what are you waiting for ?
Go ahead and choose the destination you love and go campout in our private campsites.
Use coupon code "CAMPOUT500" to avail 500 INR discount on your bookings*
Book here - https://campmonk.com/campsites